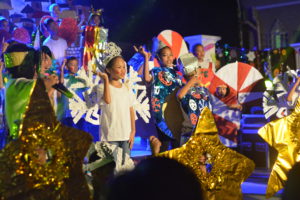 Last week over 100 children and employees of CFAI performed a Christmas concert and musical. For almost three months the kids studied dances, songs and plays for this big event. Many friends and partners came to experience this performance. The musical was written and directed by one of our CFAI staff. It tells the story of "KIKOY", a boy who lives on the garbage dump in Cebu City. A story that reflects the past of many of our children at CFAI. Kikoy and his friends who are once again plagued by hunger are trying to find ways to support their families. So, they went to the streets of Cebu to sing Christmas carols with self-made rattles. Hoping to get some coins from people passing by. After one day, the friends collected around 30 pesos, about 10 pesos each, which they bring home with them. Kikoy plans to give his 10 pesos share to his pregnant mother. But the once again drunk father gets in the way and violently takes away the 10 pesos. These daily fights with the drunken father lead to the fact that the mother of Kikoy loses her unborn child. Kikoy and his friends grieve for the unborn baby.
Kikoy remembers during this time of mourning that Christmas is a time of hope and love. Kikoy tells his mother a story from the Bible about the night when a baby was born. A baby that brought peace to this world. Kikoy tells his mother about Jesus and the meaning of Christmas. Kikoy's mother is amazed and encouraged, she asks her son how he knows all this. And Kikoy tells her about the weekly Feeding Program in which he and his Friends participate. Every week a car comes with CFAI staff and distributes free food. Before the meal the Staff of CFAI always tell a story from the Bible and pray with the children. Here Kikoy also learned the true meaning of Christmas and began to trust in Jesus.
Kikoy's mother finds new hope and strength and also wants to experience this love and joy her son Kikoy tells about. Kikoys drunken father also has an amazing experience and is at the end of his strength. Kikoy prayed for his parents and invites his father and mother to one of CFAI's Feeding Programs where they learn more about Jesus.
Kikoy's story reflects many of our children's stories in CFAI. Broken families, violence and hunger. Often we have seen that the children who take part in our feeding Program tell their parents about the love of God and pray for them and give new hope to their families.
It was a great evening with a brilliant performance of all the dances, the songs with band and the musical. It was a firework of God-given talents. The message of love and hope that was delivered through the presentations was very encouraging. We are convinced that for many of our partners and friends this performance was a real encouragement. At the same time, CFAI's vision of being a Ambassador of God's love to these children was understood.
In addition to the actual performance, the preparations and rehearsals were a special time for our children and youth. Not only could they take next steps in developing their gifts and talents, but they could also experience what it means to use their gifts for the glory of God. It was all around, a real gift and a very blessed event.
Here are some pictures from the Event.