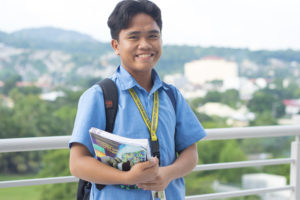 Michael Angelo studied in NSOI for four (4) years and graduated last April of 2019. He was the President of the school's student organization and became very active in carrying out activities for the school. He believed that the school has molded him to become a better student he is today. The school taught him to become competitive. It was also in NSOI where he had seen and discovered his talents and potentials and developed them throughout the years. He was able to learn to stand up and believe in himself even if no one does.
After finishing his junior high school at NSOI, he admitted that he was afraid of leaving the school. It became his platform and his comfort zone. Admittedly, he was once a very shy person but overcame his shyness. When he left NSOI for his Senior Years at a University, he said he was very shy facing his classmates and schoolmates. Currently, he is working on developing a rapport with his classmates and teachers. He is adjusting to his new learning environment.
Upon working in all his fears and adjustments while he is at the University, he eventually became his classmates and teachers' pride. Recently, he was recognized as Top One Student in class with honors in an average grade of 92%. He was also awarded as Champion in the Math-Science Week Quiz Bowl and Best in Costume during their Math-Science Week Culminating Activity last September 2019. His Oil Canvas Painting entitled "Finding Bliss" was chosen to be one among those presented in the University's BEST ARTWORKS.
All his achievements motivated him to become better and do more of what he can do. He is willing to go beyond his limits and face difficulties if those were one of the ways to help him become better.
To become a Science High School Teacher is what he is planning to pursue in College. His NSOI teachers became his inspiration to become a teacher. They were the ones that allowed him to see the beauty of teaching. Right now, he is becoming a good student to become a better teacher for his future students.
An inspiring message he will leave to his Co-Nehemiah Kids and Teens: "In every mistake and struggle you are facing, don't just stand and do nothing. Let them become your stepping stone to reach your goal. Always remember that life is not easy. Do not become a kind of student that limits oneself in doing the things he/she loves. Acknowledge God in everything you do and thank him always."
Angelo became a testimony and an inspiration to his friends in CFAI, that no matter your beginning, God can use you and transform you into something God glorifying.
We are excited where God's ways lead you in the future – but one thing we can already say: We are very proud of you, Michael Angelo. Strive hard and trust God every step of the way.
You too, can become part of such a HOPE STORY: